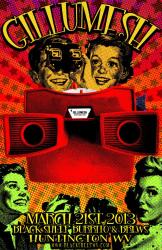 Gillumesh
Funky Jazz Groove Duo
Time: 9:18pm Day: Thursday Ages: All Ages Price: FREE
This Event Has Ended
Gillumesh - The Gillum brothers experimental funk/soul groove duo!

The Gillum brothers began playing music and sharing stages together at an early age. Later life would take them on separate paths as Andrew headed to Brooklyn, NY to immerse himself in the jazz scene while Nathan moved to Nashville, TN and soaked up roots music.
Now they have crossed paths again and started an amazing group called Gillumesh. Together the duo is able to cover musical ground that would normally take at least twice as many people. This makes Gillumesh an adventure to listen to and watch.