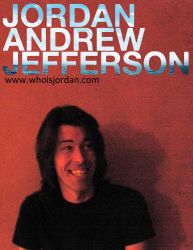 Jordan Andrew Jefferson
Indie-Pop
Time: 10:00pm Day: Saturday Doors: 11:00am Ages: All Ages Price: FREE
This Event Has Ended
Growing up, the house was often flooded with a wave of melodies. Mom was on the piano while Pop was on the turntable playing classic rock and folk! There was no escaping it. Nor did I want to! It was Huntington, WV in the 1980's and 90's. I longed for L.A. and London in 1966!

I spent most my youth deep within my room, lost, chasing endless summers around my head. The radio became my best friend! That was also when I began messing about on the keyboard and guitar writing songs. I didn't know if I was doing it right...I just knew it felt good!

I started my first band while in 7th grade and continued on with two regional alternative rock acts. However, music's biggest impact happend when, at 17, I first heard "God Only Knows" by The Beach Boys sweetly crashing through the radio speakers! There was no denying it: pop music is where it's at!

In 2008, while continuing my duties of being a bassist and lead vocalist, I began performing out as a solo artist. I wrote some songs, recorded a lot of tunes and played a few gigs. It wasn't bad but it wasn't great. I took a moment to reflect on my career, started studying some really great records and knew I had to step it up!

It's 2012. I'm working on a new album, writing my best tunes yet, and playing out more than ever before! Sonic. Spiritual. Honest. Healing. I have never been healthier and more alive now that I am following my heart and soul's truest desires!

Who is Jordan? Listen to my music then ask yourself that same question. If you don't know, then you just might never understand. To quote The Beach Boys' Dennis Wilson, "There's no escape from being honest. On the inside, we're always honest. On the outside, we can bullshit. Inside, there's no escape".